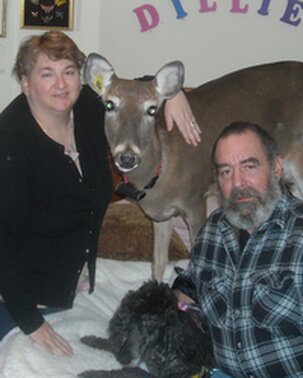 MELANIE R. BUTERA, DVM is a veterinarian with more than twenty years of emergency experience. She has owned the Elm Ridge Animal Hospital for the past ten years and the Stark County Veterinary Emergency Clinic before that. She has treated more than 100,000 emergency cases in her career and now enjoys the different challenges of private practice work. Dr. Butera and her husband Steve Heathman live in Canal Fulton, Ohio.

"Love comes in the door in many ways. Some- times it thunders in with the dopey gallop of an irrepressible Labrador retriever. Or it may tiptoe in on the lithe feet of a Siamese cat. It might even stride in with the beauty and elegance of a big red Thoroughbred. Love came into our life quite unexpectedly late one crisp June evening on the tiny hooves of a dying fawn."

---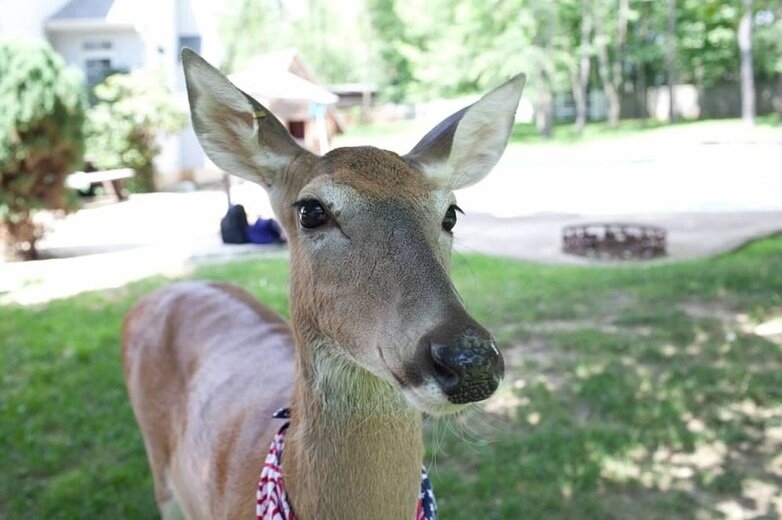 Hi, my name is Dillie and I am a farm-born White Tail Deer that was born blind, but have become an international media sensation because I live in a house and have a whole family of people and other animals that take care of me night and day.

I do have my own bedroom, and if I am in there right now you can see me on the Dillie Cam. When I am not lounging in bed, I am out eating my hay, playing in the yard, swimming in the pool, or getting into things I am not supposed to. I am the mascot of Elm Ridge Animal Hospital in Canal Fulton, Ohio. Write me: I love mail, especially with a little sprinkle of salt. See me on Facebook! And remember to buy a copy of my new book! Thanks for stopping by!

I AM NOT A WILD DEER! I am a farm-bred deer. Please read more about me here. I am a very special deer whose farm-bred background, blindness, and ability to adapt has made me a docile house pet. I do not ever recommend any other deer in the world be made into a pet like I am. I am one of a kind. In other words, don't try this at home! IT IS ILLEGAL TO TAKE A DEER FROM THE WILD AND MAKE IT A PET OR PUT IT ON A FARM.

Read my latest press...